PARENT DOGS TO OUR COCKAPOO PUPPIES
"Sassy Desire"


"Sassy" is one of our gorgeous cocker spaniels,she is an AKC reg. buff beauty that produces some of our most beautiful and well natured pups with outstanding temperments.She loves to meet visitors especially when she is with her pups,it seems as she is proud to show them off to everyone.She is calm and loving and this surly reflects on to her COCKAPOO pups.

"Amber Sunshine"

"Amber" is another of our cocker beauties,she is dark buff in color with such a coat of beauty.She also is AKC reg. with excellent bloodlines and is quite the show off,she is sweet,in perfect health and a social lover girl passing her wonderful traits on to her COCKAPOO PUPPIES without fail.She is special in our hearts and her pups could be in your's.
"Swiss Miss"

"Swiss Miss" is our cream colored minature poodle that is sweet and neat and quite loving,she is more that a perfect mother to her COCKAPOO BABIES keeping them clean,well fed and with total attention. She is AKC reg. with an excellent health record and has produced fabulous cockapoo puppies in her past litters,she is a sweet heart.
"Autumn's Angel"

"Angel" is one of our younger cocker spaniels bred from our own parent dogs,she has birthed one beautiful litter so far and will be producing more beautiful COCKAPOO PUPPIES in the future to make a happy home even happier.She is a red beauty with a fun loving personality and just a joy to be around,she is an AKC reg. sweet heart that loves attention from everyone and oh what a perfect mother she has become with her first COCKAPOO Babies.
"Passion"

"Passion" is a sister to Autumn's Angel and is just like her in every way,she also has had one litter and just a perfect mom to her COCKAPOO PUPS.She also is a red loving beauty with a desire to have attention from anyone,she is "too sweet" with her loving ways being just a playful happy snuggler.She birthed just the most gorgeous well natured red & apricot COCKAPOO PUPPIES there could be and made all of the fortunate families owning one quite happy.We expect her next litter in early 2011 for anyone wanting a future COCKAPOO beauty.
"Chocolate Charlie"

"Chocolate Charlie" is as his photo shows,one gorgeous boy.He is an example of a perfect American Cocker male and he produces the most beautiful chocolate,sable and black COCKAPOO PUPS anyone could find.He has a deep chocolate coat and beautiful emerald green eyes along with the most gentle loving personality a pet of any kind could have,his health,beauty and calm natured temperment are unsurpassed and it carries on well to the COCKAPOO PUPPIES he sires.
"Rare N' Red"

"Rare N Red" is our minature poodle breeder male to our outstanding red,apricot & buff COCKAPOO PUPPIES.Talk about beautiful,gorgeous,hansom or anything else wonderful one could say he is it.He is a stunning perfect example of his breed not just a cutie but so well natured with an extremely freindly loving personality.He produces beautiful calm natured loving COCKAPOO PUPS and has been part of making many families more than happy,much happier than they expected to be.He not only enjoys meeting people when they visit he also has a ball playing with the pups he has sired.
"Ruby Ann"

"Ruby Ann" is our "too much for words to say" female minature poople beauty, She has had two litters now and what the beauties her COCKAPOO PUPPIES have become,gorgeous reds and apricots most with white accents making her COCKAPOO PUPS just the happy go lucky family "Show Offs".She is sweeter than she looks in her photo and more than a puppy at heart when out in our yard playing whether with the kids,adults or our other dogs and COCKAPOO PUPS.She is a dream come true for that perfect poodle mommie.
"Autumn's Prize"

"Autumn" is our older cocker mom with 4 litters now in their new homes,she has had such beautiful red,apricot and blends of such,some with white markings.She is an AKC gentle loving beauty as are all our breeders.The time we spend with each of our adult dogs shows up well on the way she is so well mannored and the COCKAPOOS she has produced reflect her ways well.
| | |
| --- | --- |
| This sweet lover boy to the right is "Red Pharaoh" son of our famous red cocker male "Bulls eye Target", he is a sweet and gentle beauty and sire to some of our red/apricot beauties. He loves meeting anyone who visits to play or snuggle up to. He is a perfect Cocker Spaniel and has produced some of our most beautiful Cockapoo Puppies. | |
Romeo Charmer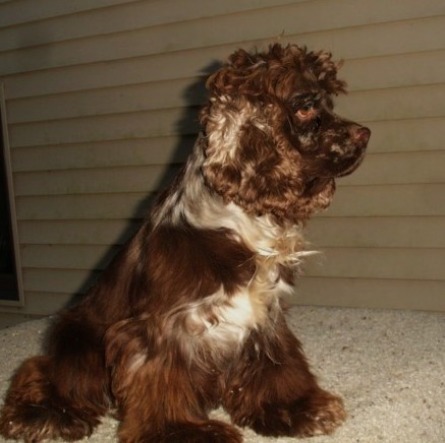 "Romeo" is truly a Charmer, he is our younger chocolate merle AKC reg. American Cocker Spaniel with outstanding bloodlines. He has champion in his back ground and he is definetly a champion here.He has sired his first litters with us this year and has produced the most beautiful blue & chocolate merle COCKAPOO PUPS anyone could find.He has a most beautiful merle coat and hazel green eyes which has produced COCKAPOO PUPPIES not only with spectacular colored coats but with eyes from sky blue to emerald green.He is truly one of our lover boys and a welcome new addition to our doggie paradise and COCKAPOO wonderland.





" All of our Beauties are AKC.registered to assure true quality pups "


---
HONEY BUN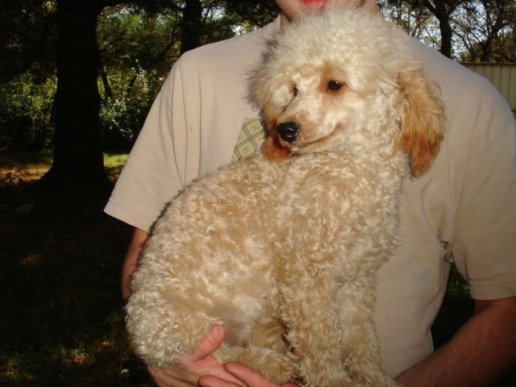 HONEY BUN is another of our true beauties and such a sweet heart she is,so well manored and there could not be a more loving little poodle.She is a perfect mother to her pups and produces quite the perfect & beautiful COCKAPOO PUPPIES at that.
---